Here we'll talk in detail about diamond tattoos, possible types of them and of course about the meaning of a diamond tattoo of each type.
The pictures of tattoos with diamond
The sketches for tattoos diamond

What does a diamond tattoo mean?
A diamond is a cut gemstone which obtained its perfect shape under the hand of a cutter. It is a stone of warriors, mothers, bishops and ancient monarchs. The luster of its facets has been fascinating people for thousands of years. It is considered that for the first time the gemstone was found in India in the IV century B.C. Already then people were impressed by the unbelievable crystal purity as well as hardness of a diamond. Trying to adopt such qualities people wear diamonds and picture them on their bodies.
The diamond tattoo meaning
The idea and the meaning of a diamond tattoo
The idea of a diamond tattoo is as versatile as the gem itself. This image is considered to be unisex, therefore is suitable for both men and women.
Men's diamond tattoos
One can say that diamonds should be primarily associated with women being a symbol of luxury and beauty, but it's not exactly so because it is more important that it's the hardest stone in the world. Ancient warriors thought that a diamond could help them to survive and remain brave during any, even the most frightful battle, give them strength and courage. This is a symbol of will and strong spirit underlining recalcitrance and pride of its owner. A diamond also points out a strong character and an invincible courage as for tattoos of old American school. These are tattoos for strong, self confident men with a unique character.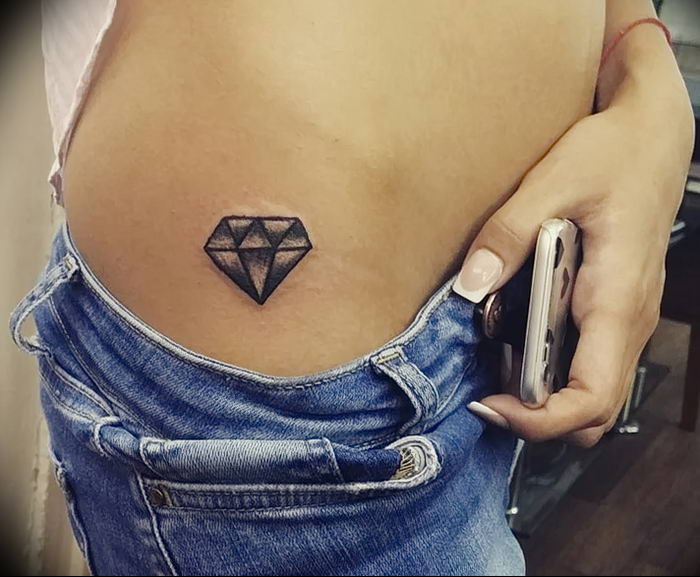 Women and the meaning of diamond tattoos for them
Beauty and mystery, crystal purity and faithfulness – these women's qualities can be underlined with a diamond. It shows the unity of a beautiful appearance and a reach inner world of a person, just like the play of the inner luster of a gem upon its perfect facets. If you want to express your inner purity and innocence or emphasize your elegance and perfection, then probably a diamond is exactly what you need to apply to your body.
Examples of a drawing of a tattoo with a diamond:
Let's go on talking about the meaning of a diamond tattoo.
A diamond tattoo – a mystic amulet
A diamond has a huge power in itself, it not only protected a warrior during a battle, but it also was a general protection from an evil eye, curses and other bad intentions. A diamond protected its owner from an evil spell, saved his or her soul from vices and helped to resist others' influence. For a woman a diamond amulet can play a special role being a symbol of fertility and femininity: it can protect a mother and a child inside her from the evil. In India people believe in healing forces of a diamond, in its capability to heal many illnesses with a touch. In Europe during an epidemic of plague queen Elizabeth I wore a diamond for protection. A diamond is not only a royal gem but also an amulet for bishops. It was considered that it was so pure that it could resist Satan. Because for dark forces the light radiating from a diamond is just like that of Heaven.
A symbol of endless love
Men and women often choose a diamond as a couple tattoo. Diamonds can be pictured as wedding rings. In this case a diamond becomes a symbol of pure love, sincerity and strong vows, unwavering devotion. In such a way couples want to show that their ties are everlasting.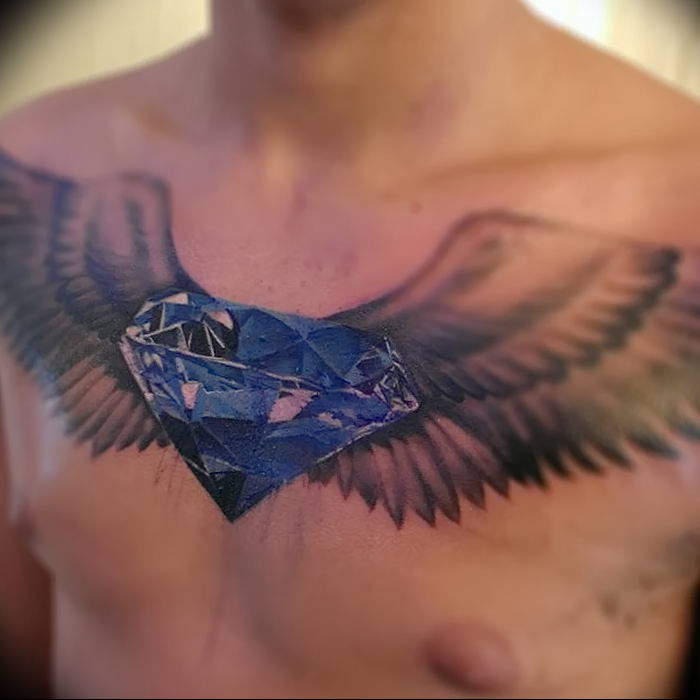 One doesn't hide such a tattoo, a diamond is applied to open, visible parts of the body (back, fingers, forearms). The inner light and the luster of facets are highlighted with bright blue, light pink or violet colors, but tattoos made in black color only are also not rare. Some shades of meaning can be emphasized by various bands, wings and flowers.
If you decided to apply a diamond tattoo, remember that the main thing about it is its uniqueness. Each diamond is special and versatile as well as a person who decided to apply it. Do you wish to show your luxury and success or underline your brightness and originality? Are you fascinated by the strength, pride and noble luster of the gem? Its incomparable perfect lines… Or maybe are you searching for some protection and an amulet? In any case a diamond is a symbol that will be with you during your life, accompany and protect you.
Watch the video:
The text of the article is prepared by: kasatky2 (Касаткина Ольга Александровна)