The material will help you find out the meaning of the tattoo "Gladiolus", will tell some interesting information about the drawings of modern tattoos, their interpretation, meaning and history. If you want to do such tattoo, we suggest to get acquainted with its meaning, and then to look at the basis for a unique tattoo in our catalog of drawings:
Gladiolus Tattoo Images
Gladiolus Tattoo Designs
Interesting facts about the controversial meaning of the gladiolus tattoo.
(If you do not want to read – you can listen to the audio version of the article)
Flowers have always inspired creative people to make masterpieces. This topic is addressed to artists, musicians, poets. This theme is loved by artists, musicians, poets. Tattoo master do not stay aside either.
Gladiolus is one of the most popular floral symbols in tattoos. What does such image mean: only tenderness and beauty or is there some hidden meaning?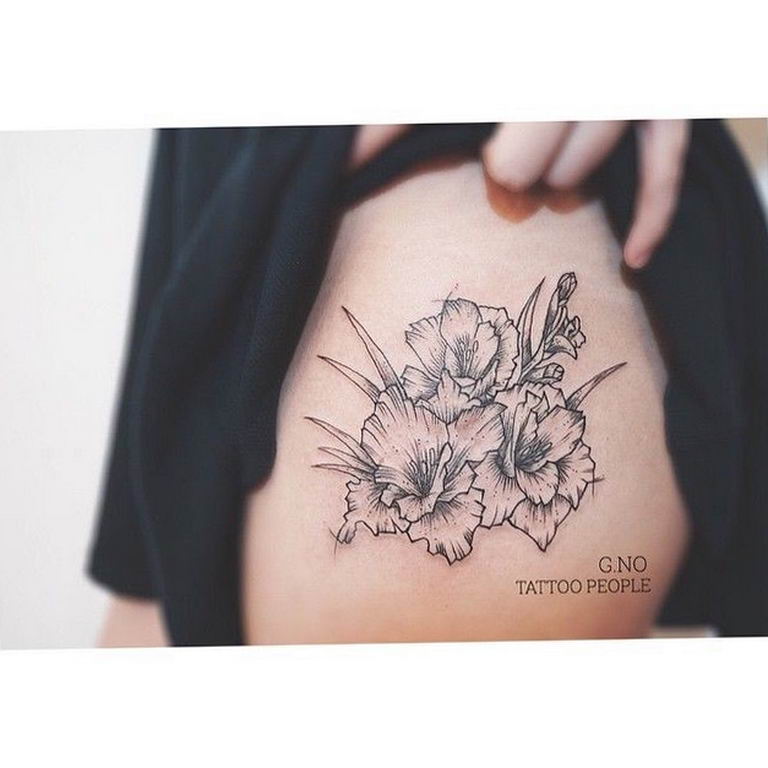 The ancient and modern meaning of the flower.
First, it should be noted that the gladiolus depicted in any form (on canvas, leather, in heraldry) does not lose its values. Tattoo artists and tattoo carriers see this image the same way as people who used to carry a gladiolus flower with them several centuries ago.
This beautiful creation of nature was initially associated with refined elegance and grace. High flowers of amazing colors will not fail to impress.
That is what attracts young girls to the gladiolus tattoo, and they interpret its basic meaning as beauty, lightness, grace.
Such picture is preferred by the women because the flower made by the skillful hand of the master emphasizes the femininity of its owner.
But the image of gladiolus can be found, albeit rarely, on the male body.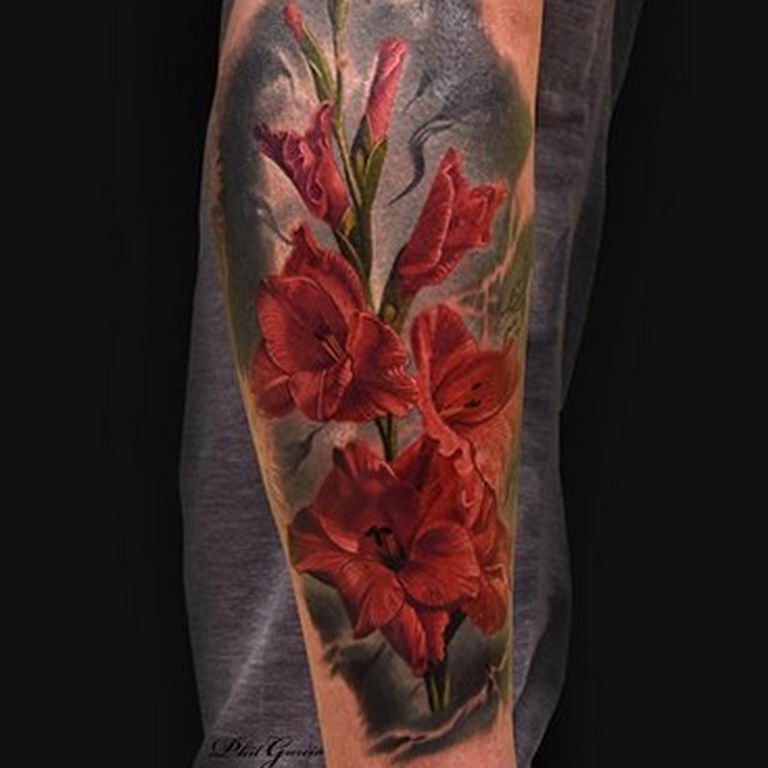 By the way, in the days of gladiators and knights, this plant was considered not just manly, but a guardian of warriors.
This is the second meaning of the tattoo, and in all fairness, it should be noted that it was original. As the legend says, in order to save two friends who were forced to fight against each other from imminent death, their swords turned into gladioli. The name of the flower sounds like 'gladius' and can be translated as 'sword'. And its shape resembles an ancient weapon.
Photo examples of tattoo designs with gladiolus:
(click to see more photos)
Medieval warriors wore the image of gladiolus as a body painting or an element of the coat of arms on the shield – it served as an amulet protecting against wounds and death, and gave them strength and heroism, dexterity in handling weapons.
Combining both meanings, a pretty looking tattoo is endowed with serious militant symbolism, and it is chosen by people who want to show such qualities:
Ability to stand up for themselves
Self-sacrifice for love
Loyalty
Wit
Fight for ideals
Justice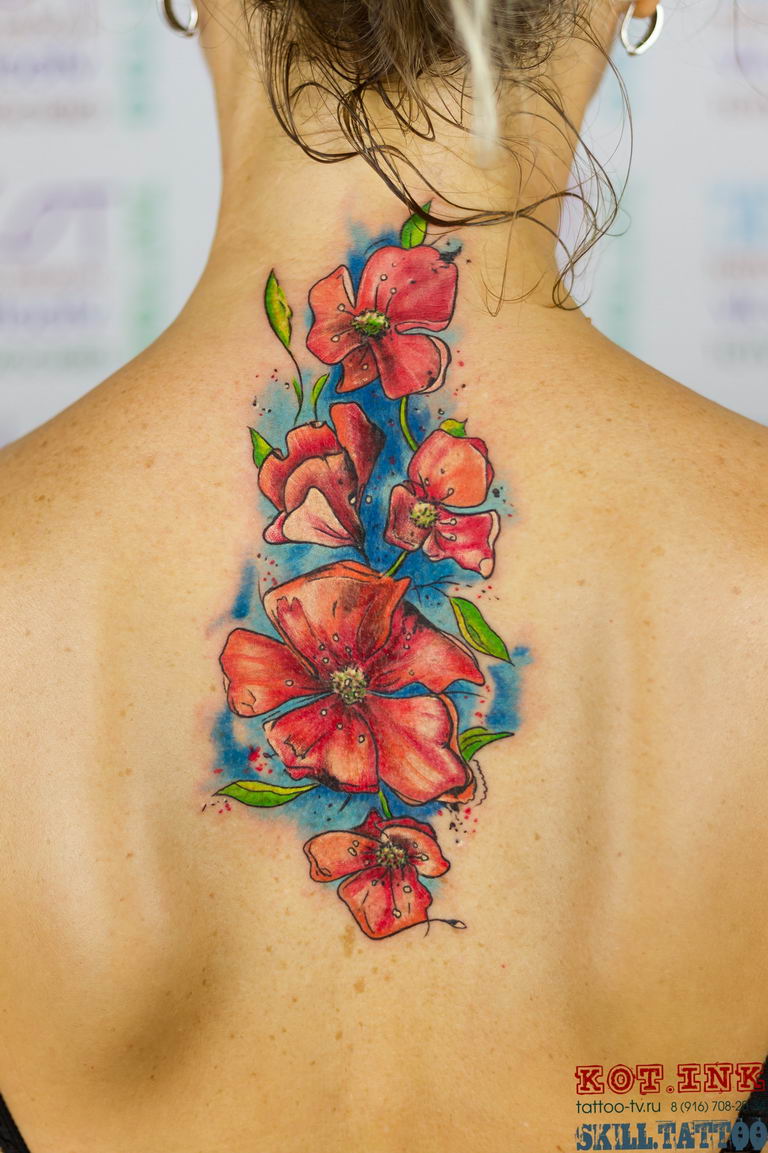 Types of gladiolus tattoos.
Such designs are usually very colorful. They are made in a bright color that looks close to natural. But the plant is easily recognizable in black and white.
They paint either one flower, several buds on a long stem, or a bouquet of gladioli.
Places of drawing:
the wrist
the leg
the neck
the thigh
The size of the tattoo is quite large; however, at the request of the client, it can vary. Places of drawings are also chosen individually: a back, a shin, a shoulder, a side.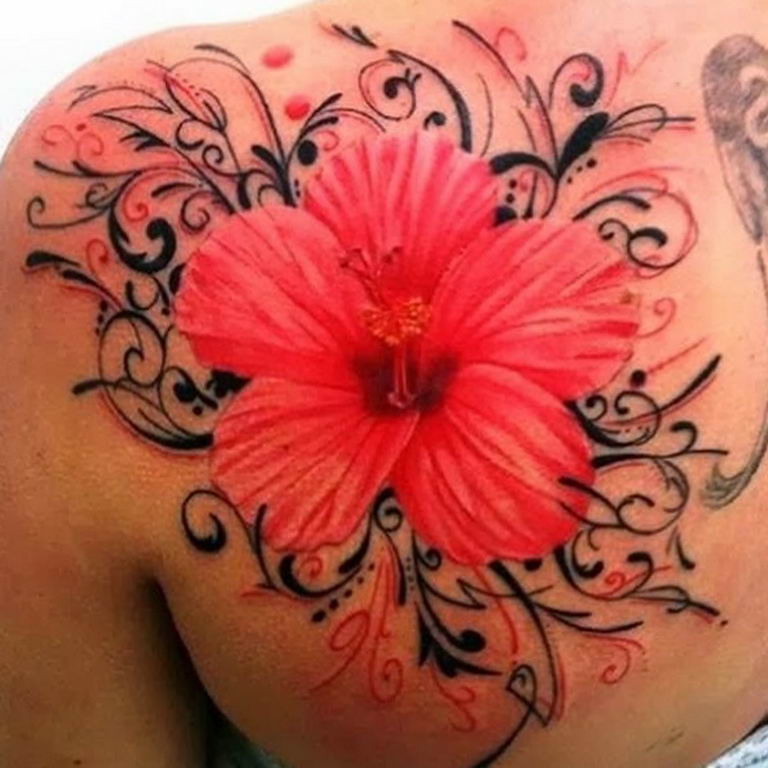 If you choose such design, you need to ensure that the tattoo master is qualified in making floral-themed tattoos.
Gladiolus looks bright and spectacular in nature. Only the experienced artist can translate all the charm of a realistic look onto the skin.
Watch the video:
The text of the article was prepared by: alex-summers (Alexey Sergeevich)