Here you can read all the most important things about the meaning of Hibiscus tattoo; get acquainted with the meaning, history and interpretation of popular variants of drawings, find out their peculiarities, and look at the examples in the pictures. More options here:
Photo of Hibiscus tattoos
Sketches of Hibiscus tattoos
The meaning of Hibiscus tattoo – a collection of interesting ready-made tattoo patterns in the photo
(If you do not want to read – you can listen to the audio version of the article)

All about the variants, peculiarities and meaning of the tattoo "Hibiscus"
Hibiscus is an exotic flower of extraordinary beauty, originated from the Hawaiian Islands, and now commonly found as a home plant. It is often associated with femininity, fragility, charm, tenderness, love and passion.
Tattoo depicting a hibiscus is a great opportunity to show your extravagance and to highlight your elegance and charm. By the way, this flower is the official symbol of the state of Hawaii, and there is a tradition among the locals to make tattoos with its image to show respect for ancestors and their customs.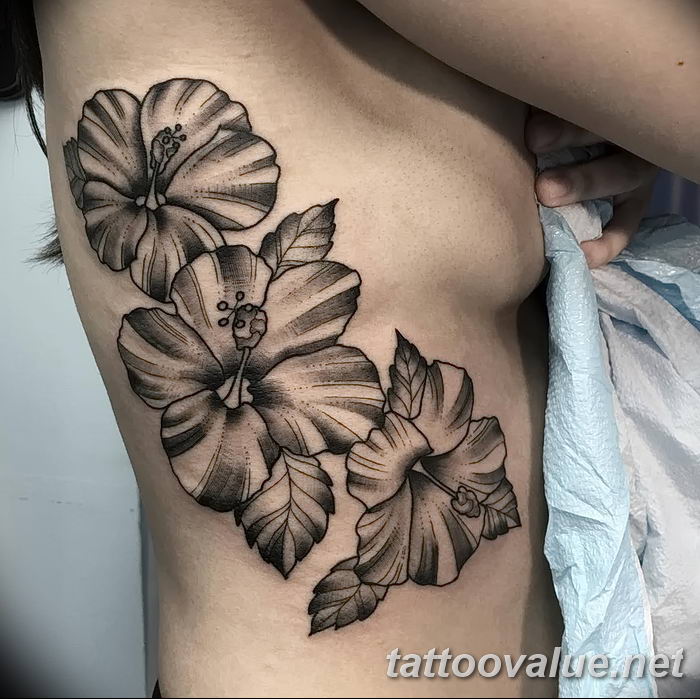 Hibiscus tattoo combined with the name of the beloved symbolizes devotion and deep, sincere love. In different countries, the meaning of a tattoo depicting this flower varies: for example, in China, hibiscus is a symbol of virginity, tenderness, prosperity and glory, in Korea – immortality of the human soul, and in Malaysia the image of this plant symbolizes courage, honor and vitality.
The image of the flower can be applied to different body parts; it can be made as unfilled contours, as well as using watercolor technique, with a variety of colors.
Photo examples of ready-made Hibiscus tattoos:
(click to see more photos)
If pink tones prevail in the hibiscus tattoo, it symbolizes softness and femininity. Owners of such tattoos, as a rule, seek to attract the men, and they need a strong partner who can solve all problems at once and always take care of his beloved.
A tattoo of several white hibiscuses, located on the shoulder blade, back or lower abdomen, indicates craving for new knowledge and skills, enlightenment, the desire to reach new heights. Such images are perfect for people keen on scientific and research activities.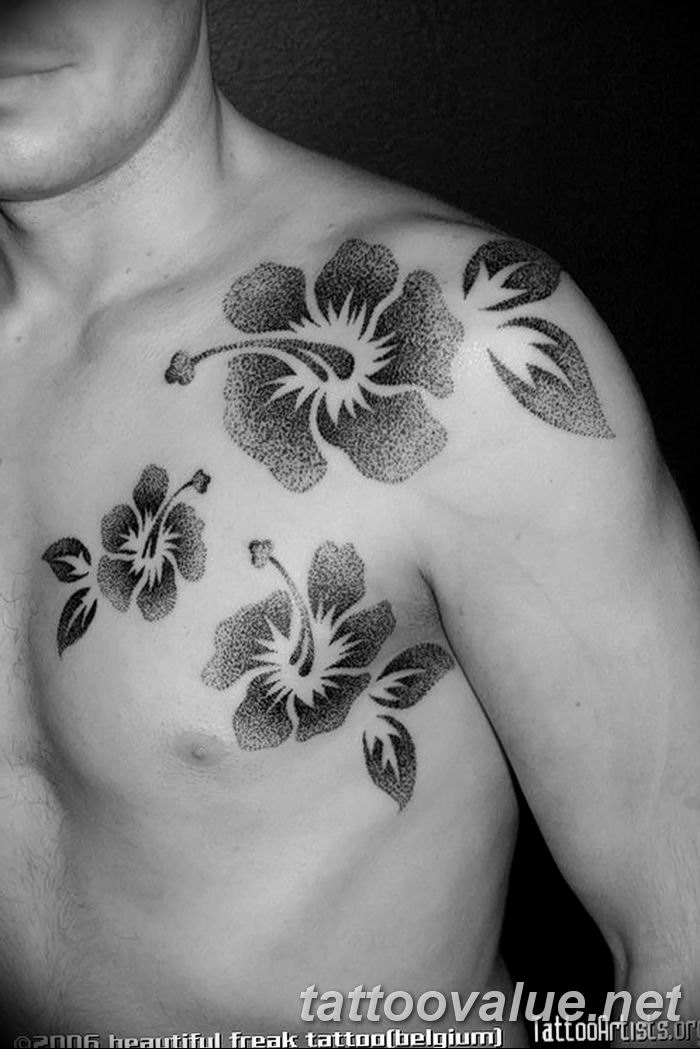 Red hibiscus flower on the thigh, shoulder or forearm means the passionate desire to be needed in relationships, willingness to enter into family life and love her partner passionately. This tattoo is suitable for brave girls who love new experiments and discoveries in relationships.
Yellow hibiscus flower surrounded by leaves will be ideal for girls with a light and fun-loving personality, who enjoy making friends and spending time at loud parties, and love to get bright impressions of life. Owners of such tattoos are often open, vulnerable; they are very naive and trusting, but this only adds to their special charm.
Violet and blue shades on a hibiscus tattoo mean the desire to win monetary prosperity and a certain status and influence in society. The owners of such tattoo are ready to make an amazing career, as well as to pay great attention to their family and to give their lives to the joys of motherhood.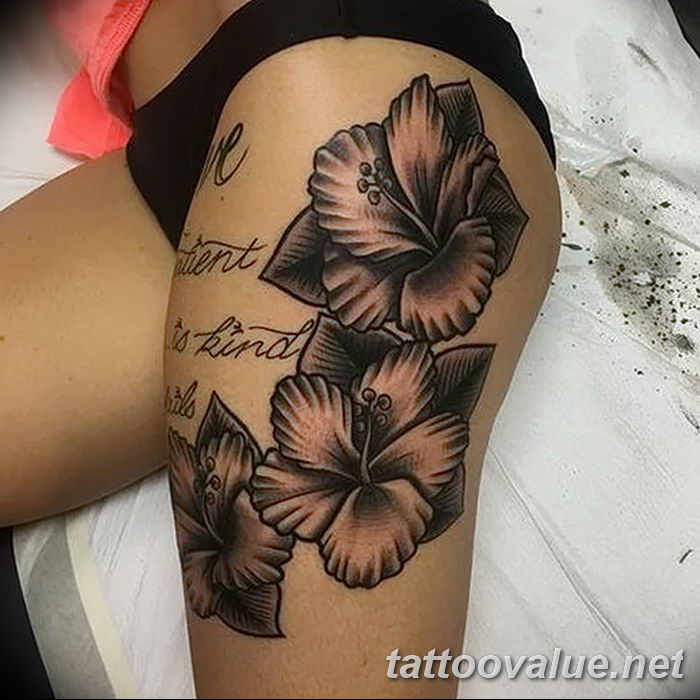 Men also put a hibiscus image on their body sometimes, but they prefer more calm and dull colors. The hibiscus tattoo for men symbolizes dignity and invincibility.
In general, the choice of a hibiscus for tattoos is recommended for people who think of themselves as sensitive and overthinking. The owner of the tattoo should strive to comprehend the world, be sensitive to their loved ones, and the family should be one of the most important things in their lives.
Watch the video:
You can see:
SKETCH OF TATTOO HIBISCUS
The text of the article was prepared: alex-summers (Алексей Сергеевич)