Here you can learn in detail about the significance of the cornflower tattoo, the meaning and history of the tattoo designs popular in modern art. For those who are looking for an option for a pattern, we suggest visiting our catalog and seeing the following categories:
Cornflower Tattoo Photos
Cornflower Tattoo Sketches
Interesting facts about the meaning of the cornflower tattoo
(If you do not want to read – you can listen to the audio version of the article)
This beautiful and delicate image has recently become increasingly popular. The cornflower tattoo has quite simple and understandable but at the same time deep meaning that can contain a lot of values. The general symbolism of this picture indicates its owner is open and honest, a patriot, but rather in terms of small homeland, its people and traditions then the state.
The cornflower tattoo owner is a right-minded person who creates his own life and success on his own, who does not expect gifts from fate.
What does the cornflower tattoo mean?
The cornflower tattoo for women
Tattoo "Cornflowers in a wreath"
The cornflower tattoo for men
Tattoo "Cornflower and Sword"
Tattoo "Two cornflowers"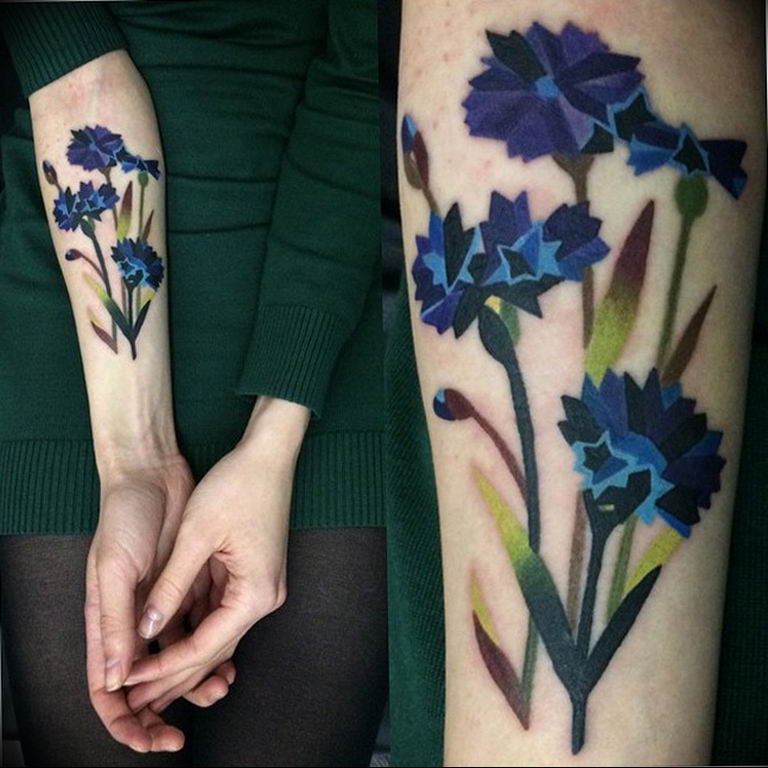 Meaning for women
A tattoo depicting flowers is a great choice for a woman. It allows creating a unique and gentle image that will bring joy to its owner for many years. And the variety of what each particular flower can mean makes it possible to choose the very meaning that you want to put in a tattoo.
Cornflower is a symbol of purity and loyalty, but not detachedly cold, like a lily, but capable of gentle and creative love. The simple and open disposition of the owner of this image is combined with vitality and inner strength, harmonious and calm. She is ready to respond to love with all her heart, but warns that her soul is freedom-loving and requires respect.
Photo examples of tattoo designs with cornflower (132 photos):
(click to see more photos)
The meaning of the tattoo "Cornflowers in a wreath"
Cornflowers, put in a wreath, mean a strong spiritual bond built on the purity of thoughts, which has a solid foundation of proven relationship. Such tattoo can mean a long-standing friendship or an indestructible love embodied in marriage.
If spikelets are woven into a wreath of cornflowers, then the owner of such tattoo wants to have many children and a large family, to live in prosperity.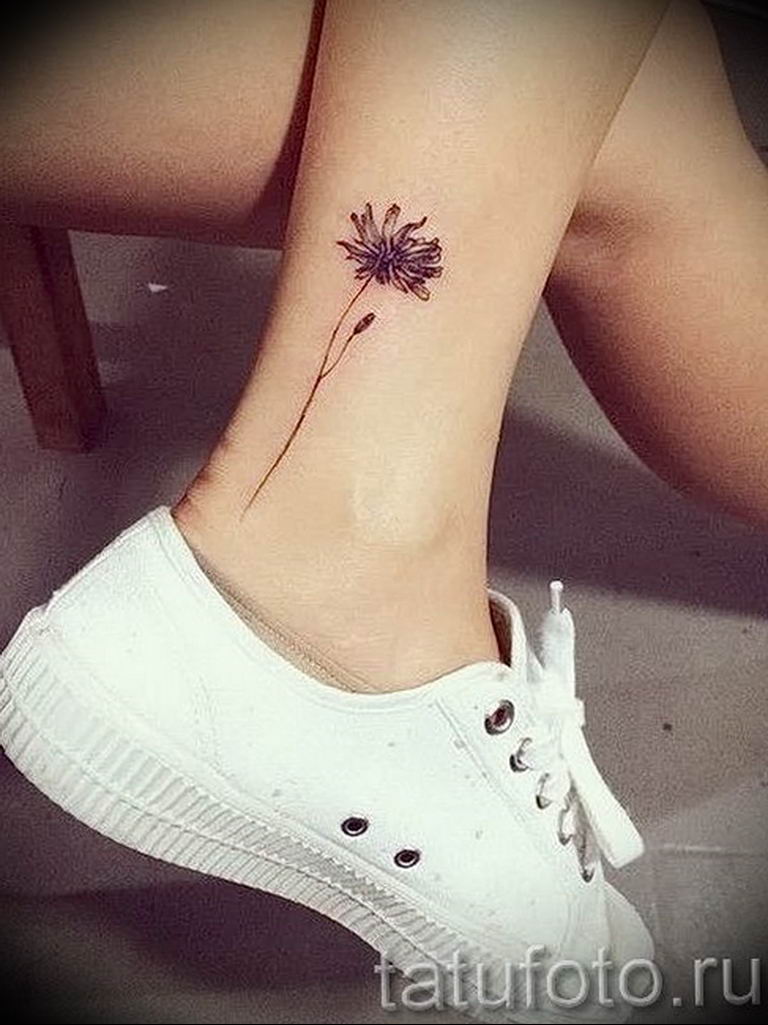 Meaning for men
Despite the fact that purely floral tattoos are considered female, the cornflower tattoo may perfectly suit a man. The owner of this tattoo informs the world about his pure thoughts, nobility in love and the desire to protect his native land and family hearth.
The meaning of the tattoo "Cornflower and Sword"
This combination of symbols in the tattoo makes it more energetically rich and active. Of course, such tattoo suits men more, but it will be good for strong women too. The owner of the tattoo "Cornflower and Sword" is a warrior, ready to defend what is dear to him until the last drop of blood, but without falling to senseless cruelty or cynicism.
This image is well suited to those who are engaged in Slavic martial arts.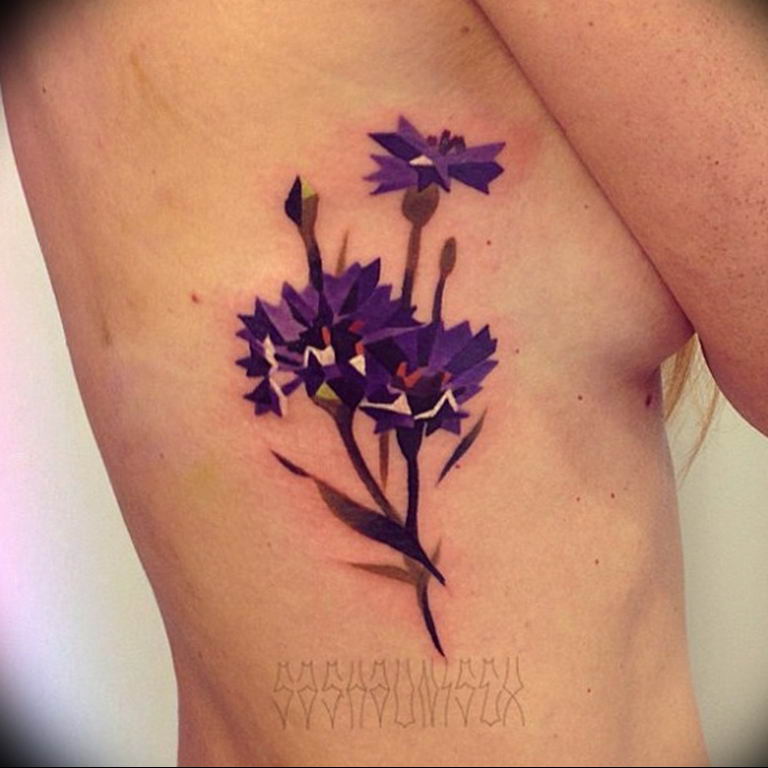 The meaning of the tattoo "Two cornflowers"
The pattern of two cornflowers means the eternal spiritual faithfulness of unrequited love. On the one hand, this sad symbol indicates that its owner is a devoted and steadfast person, but on the other hand, it may stand in a way of finding new love and happiness in the future. Therefore, you should give it a serious thought before applying such image on your body.
Those who choose the cornflower tattoo should take into account that this symbol places high demands on the purity of the thoughts of its owner. People who lie and scheme to build their success will find it to be a great obstacle in their activities.
Watch the video:
You can see:
SKETCH OF TATTOO CORNFLOWER
PHOTO OF TATTOO CORNFLOWER
The text of the article was prepared by: alex-summers (Alexey Sergeevich)