In the following article we will try to get to know more about infinity tattoo and what does it mean. We will learn about its history and meanings that could stand behind it. For those who have already decided that they want this symbol tattooed we can suggest to check out our other publications by clicking on the links below:
Infinity sign tattoo photos;
Infinity tattoo sketches.
The meaning of the tattoo "Infinity" – The most interesting facts about tattoo design
(If you do not want to read – you can listen to the audio version of the article)
Symbolizing eternity may actually come in different shapes. Fun fact. Infinity sign, as we all know it, looks like the horizontal number 8 turned on its side. Nowadays it's used by mathematicians. But there's another form to symbolize infinity — Ouroboros. This is very ancient symbol of a serpent or dragon eating its own tail. Ouroboros symbol traditionally has circular form but today it's often represented as usual lying 8.
Simple sign of infinity may contain a lot of deep meaning and it depends on what kind of person is going to wear it, their life story, religion, culture, circumstances that led them to get this tattoo etc. Although each owner of tattoo usually puts some personal values into design, infinity symbol is definitely always about something endless. It often shows the intention to explore the world in its every possible aspect. People that apply this kind of tattoos on their skin are generally romantic, spiritual, gentle or just want to be trendy.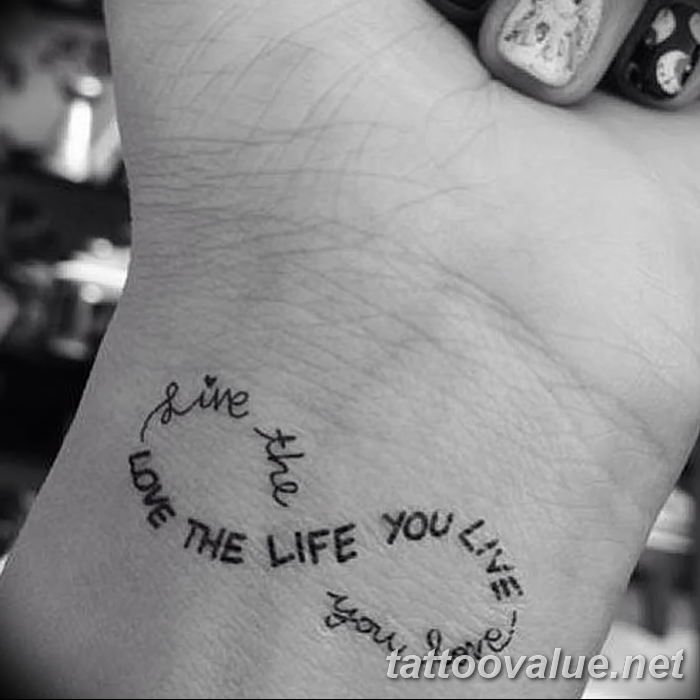 Also, infinity tattoos are done in pairs. This option is popular with relatives, friends and couples because it's a great way to show never-ending love, respect and loyalty to your partner. It depicts strong bond between people and the fact that it's inked under their skin highlights the feelings. Besides that you can add to your sketch some other small details like hearts, anchors, feathers, dates or names — whatever you want. Actually people combine those images with initials of their beloved, motivation phrases "never give up" which show limitless opportunities, religious quotes, words with deep meanings like "freedom, breathe, forever" and many more. Infinity tattoo is not always about deep personal values though. Sometimes people get inked images of infinity symbol just because they find them aesthetic or good-looking.
Photo examples of tattoo designs with infinity:
(click to see more photos)
Infinity sign is also common "first-tattoo" choice because it can be small, meaningful and very stylish if you find a talented artist to create a cool sketch for you idea. If tattoo is small you can place it on any part of your body so that will not be really painful —  perfect option for first tattoo. Most popular body parts are wrists and inner arms but you can also apply it behind the ear, neck, ankle or even on your finger. If tattoo is big it can be a part of a bigger composition or sleeve.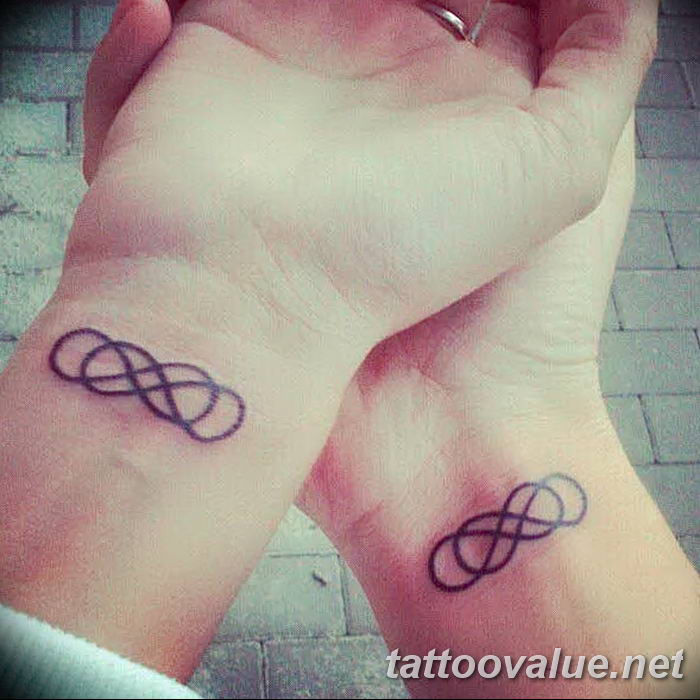 There are so many varieties of interesting designs! It can be one-line black, bright-colored, made in traditional or old-school style and other styles, as a texture, rope, feather, snake. It all depends on your creativity and professionalism of your tattoo-artist.
Watch the video:
The text of the article was prepared: geekypal (Lidiya)