The article will help to learn interesting facts about the meaning of the Queen of Hearts tattoo, it will introduce the variants of the drawings, their interpretation as well as their meaning and history. Additional examples of the drawings can be found here:
Interesting facts about drawings and meaning of the Queen of Hearts tattoo.
What Does Queen of Hearts Tattoo Mean?
(If you do not want to read – you can listen to the audio version of the article)
Only a few decide to draw playing cards on their bodies since the meaning of these cards is not always a positive one.
Queen of Hearts and the world of crime.
The majority of such tattoos are very common for a criminal society, they show that a person belongs to some criminal group. A suit of the tattoo indicates a position a person occupies:
– the Queen of Spades means a thief in law;
– the Queen of Clubs means an experienced thief;
– the Queen of Hearts indicates those whose position was lowered;
– the Queen of Diamonds is popular among fraudsters and jesters, those who have lost their credibility due to squealing.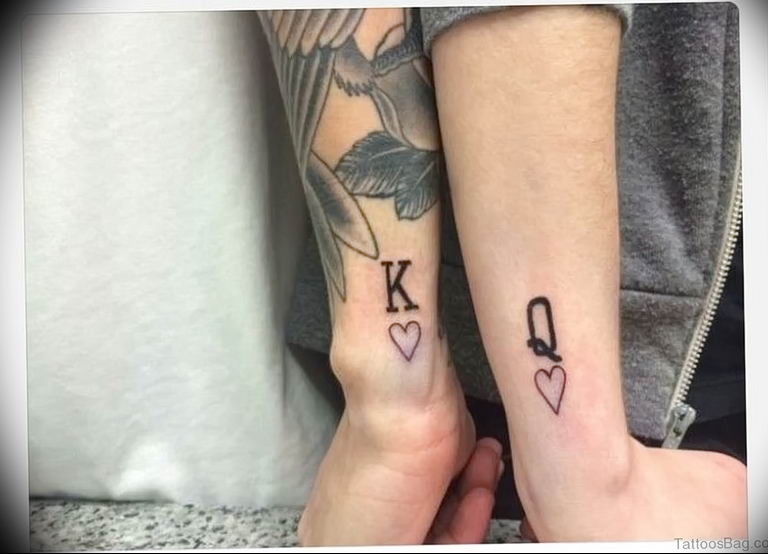 Success in love and cards
But at the same time, the image of a woman who belongs to any card suit can symbolize an object of passion, who is loved and hated at the same time. Those who have such a tattoo may not understand which feelings – love or hatred – prevail.
If a person wants to have such a tattoo, he should be very careful about his decision. Some believe that this is a distinguished sign of homosexuals. In this case, they often draw it on their backs.
Photo examples of a tattoo with a heart of Hearts card (91 photos):
(click to see more photos)
But there is another opinion. Since tattoos can affect fate, acting as a talisman, they can make a person dependent on the chosen tattoo. After all, it has a magical meaning.
Cards have always been considered mysterious, belonging to some magical power, and therefore their magical power attracts many who believe in the power of predictions. People who recognize the power of cards love risk and unexpected twists of fate. They are not afraid of the future, they are eagerly waiting for events life would give them so that they would be whirling in them.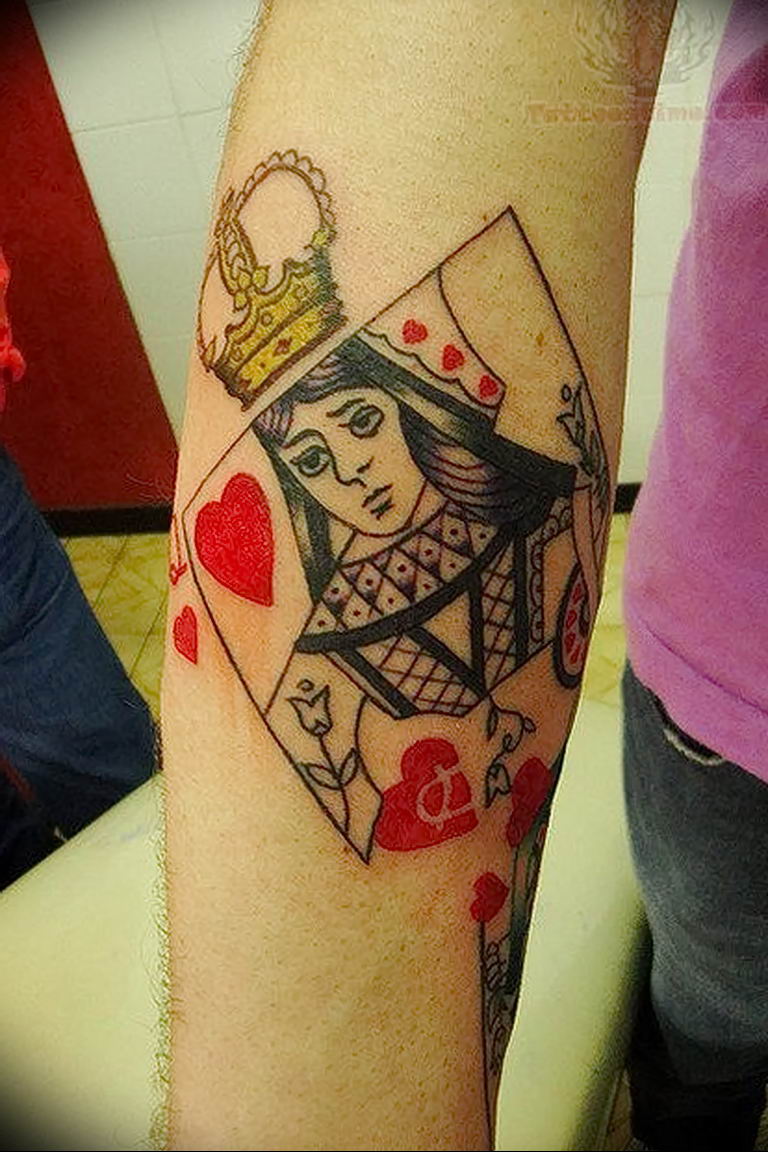 The Queen of Hearts will surely bewitch the right cards for those who gamble. By choosing such a drawing, the player believes that such tricks will bring him continued success and good luck in the game.
The Queen of Hearts tattoo has one more important meaning. It helps to succeed in love. And the object of passion will always reciprocate.
Some men use such a tattoo so that they would be popular among many women, not just one.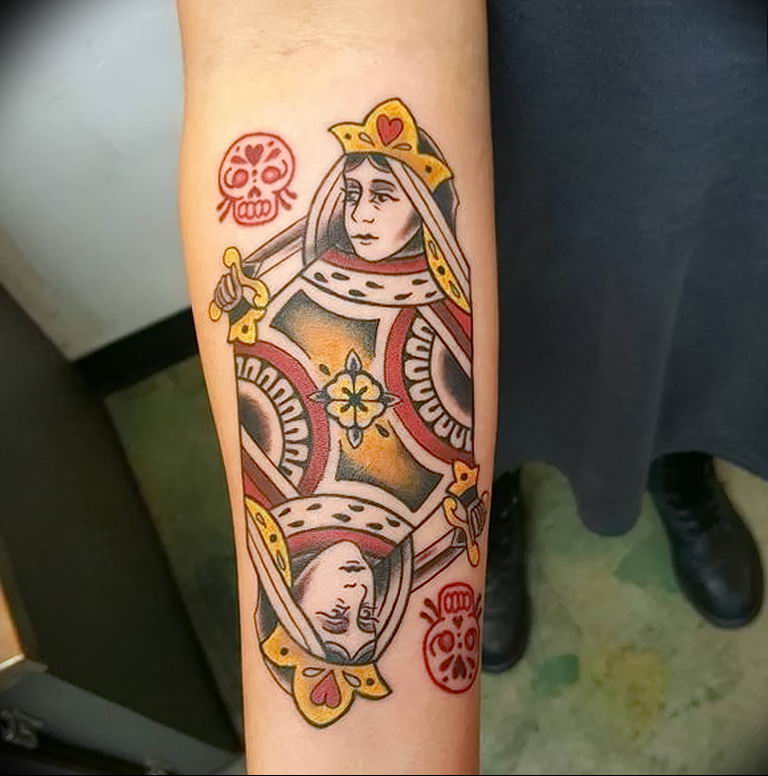 The Queen of Hearts tattoo gives its owner sensuality and emotion, an ability to control the situation and to settle conflicts in time. Also, the Queen of Hearts will help to develop creative abilities, which would bring profit in the future.
This card always means a woman who is a mother of love, who gives tenderness, kindness, endless love, who brings peace of mind and self-reliance to those who surround her. These qualities sharply distinguish the Queen of Hearts from the Queen of Spades who brings destruction and disorder.
The Queen of Hearts has more good powers than the Queen of Spades. That is a tattoo with the Queen of Hearts possesses strong energy and protects its bearer from external negative effects.
Watch the video:
You can see:
SKETCH OF TATTOO QUEEN OF HEARTS
PHOTO OF TATTOO QUEEN OF HEARTS
The text of the article was prepared: katyachukaeva (## FIO ##)