Here you can learn of the meaning of Bull Terrier tattoos as well as the meaning of some patterns in the modern tattoo culture and their history.
Bull Terrier tattoo photos
Bull Terrier tattoo sketches
What a Bull Terrier tattoo means
(If you do not want to read, you can listen to the audio version of the article)
Day by day, tattoos are getting more and more popular body embellishments. They can reflect the mood and character of the person who has them tattooed and the history of his or her life. While choosing a tattoo sketch, it's important to pay attention not only to its aesthetic aspect, but also to the meaning of the symbols. Most recently, people often choose dog tattoo sketches. One of the variants is a Bull Terrier tattoo. But what does it mean and who can have it tattooed?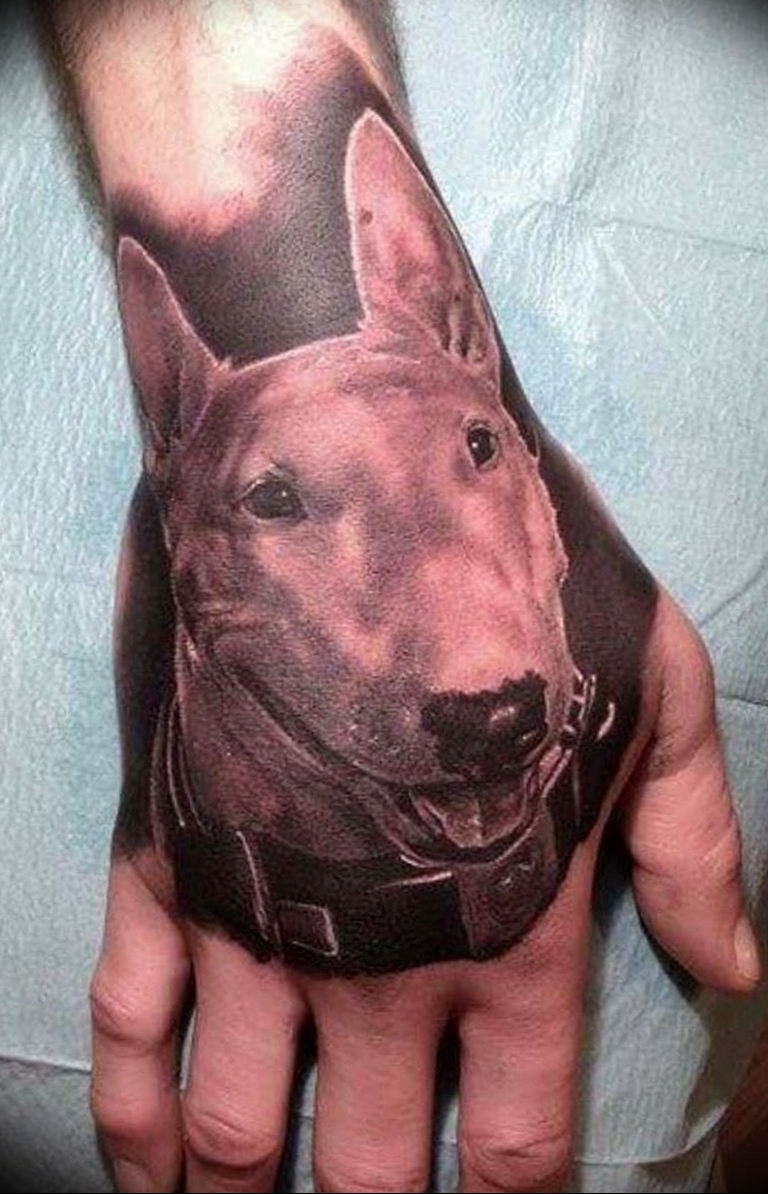 Whose body does it suit better?
Assuredly, this tattoo is for men. It emphasizes the power and adds masculinity to the person. A musculary dog looks very appropriately on a body that is similar to it. If you are afraid that such a tattoo has a criminal meaning, you don't have to worry – it doesn't bear any criminal information. It is a less popular choice for women; mostly, it is tattooed to commemorate a pet and doesn't mean anything else.
The meaning of a Bull Terrier tattoo
Bull Terriers are not ordinary dogs. They belong to a well-known fighting breed and never show aggression without reason.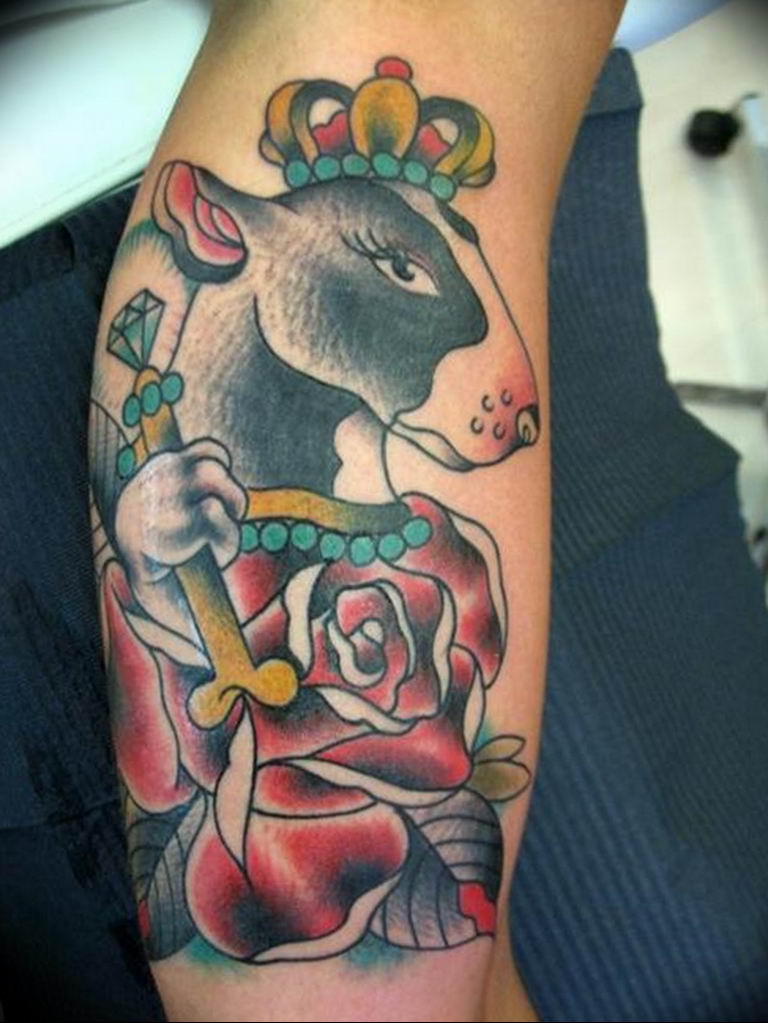 Here are the basic traits that are inherent in persons who have such a tattoo:
Bull Terriers don't unclench their jaws for no particular reason.
A fighting dog cannot be coward.
While seeing sculptured muscles and a formidable dog on the body, one can undoubtedly figure out that he meets a strong person. It is important to realize that "power" can mean not only physical force, but also spiritual strengths. By the way, it is inner power that can be the meaning of the Bull Terrier tattoos for women. This kind of tattoo shows complicated character of the woman who has it tattooed even if it is fringed with roses.
All dogs are faithful friends, and in this aspect, the breed doesn't matter.
love for animals. Such a tattoo is often worn by animal lovers or dog handlers, as a sign of professionalism.
Photo examples of drawing a tattoo with a bull terrier (154 photos):
(click to see more photos)
Popular Bull Terrier tattoo variants
Bull Terrier with a rose
Bull Terrier in a hat
Bull Terrier in a tuxedo
geometric Bull Terrier
graphic Bull Terrier
Bull Terrier showing its teeth
other

Locations for a Bull Terrier tattoo
Bull terrier tattoo on the leg
Bull terrier tattoo on the arm
Bull terrier tattoo on the shin
Bull terrier tattoo on the forearm
Bull terrier tattoo on the belly
other

And now, some negative meanings:
A Bull Terrier tattoo can mean that the person is ready to use brute force without any reason. So, we meet a cruel and bloodthirsty fighter. He's not able to give up and hates to be a loser.
Readiness to attack immediately without thinking of the consequences – that can be another trait of such a person.
Often, such drawings on the body are worn by the people who had Bull Terriers, but unfortunately, lost them. The dog owners leave on their bodies the memory of their pets.
Many things depend on the styling of the tattoo. It can be colored or black-and-white. More aggressiveness can be shown, for instance, with a spike collar. For the credibility, bared teeth can be added too. If you want a milder image, you should make it look like a cartoon character or add some little hearts or cheerful colors to it. The dog can be on a chain. Also, an inscription within the meaning looks very showy.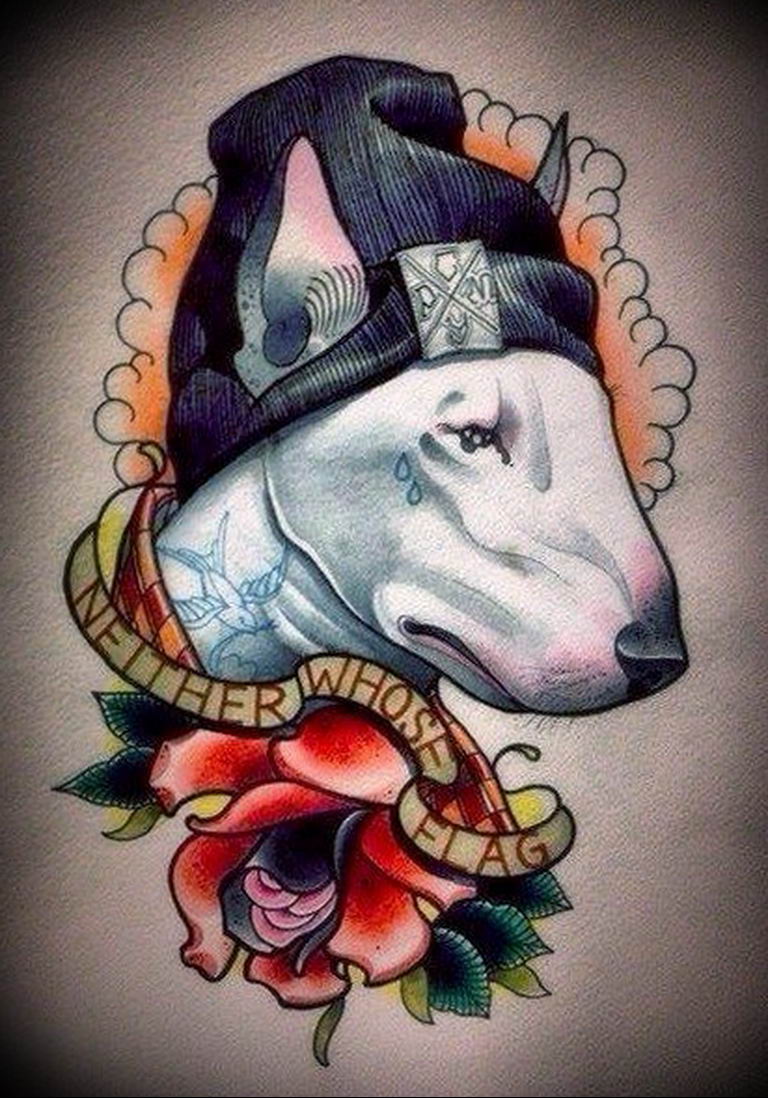 The location choice depends on the size of the sketch. If you choose only a dog head, it can be tattooed on any part of the body: the forearm, chest or leg. But, for instance, a sitting dog needs more place and fits for the back.
Watch the video:
You can see:
SKETCH OF TATTOO BULL TERRIER
PHOTO OF TATTOO BULL TERRIER
The text of the article was prepared by: NEOPFERD (A. Golev)