This article will let you know all the most important things about the meaning of a boar tattoo, features and examples of the tattoo, you can find out the interpretation, meaning and history of the tattoo. More examples you can find here:
Boar tattoo pictures
Boar tattoo designs
Everything about examples, interpretation and meaning of the boar tattoo
(If you do not want to read, you can listen to the audio version of the article)
A boar is a strong animal, a leader. Ferocity, composure, ruthlessness and courage are inherent in him. But at the same time, there is also gluttony, sloppiness and lust. More often, such a sign symbolizes a dark beginning, even demonic. The drawing of the head of a wild boar is some kind of a talisman from evil forces, it improves health and increases vitality.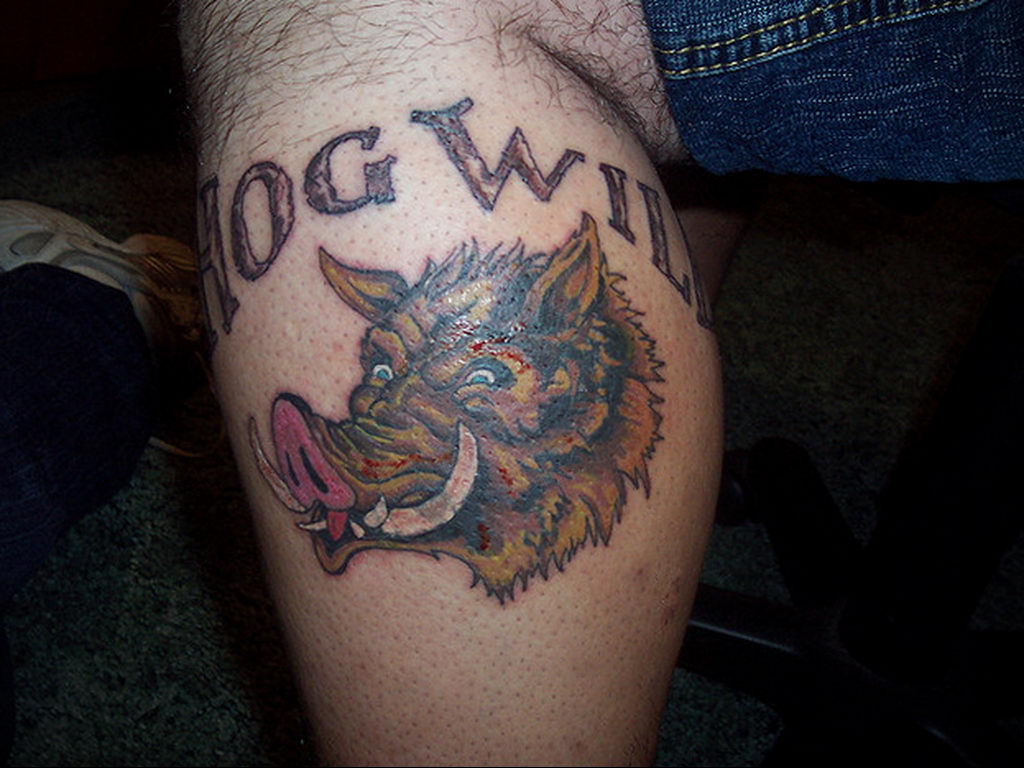 An insight into history of the tattoo
Since ancient times, the symbol of the boar has been very controversial. It was associated with war more often, although among some peoples, on the contrary, it was a defender against attacks. In ancient Greece it is a destructive symbol, and in Siberia and Japan it is a valiant and honest warrior. In ancient China, the wild boar was worshiped, since it was believed to bring fertility to the lands and forests. In India it was a deity who first cultivated the soil. The element of water and moonlight were associated with a white boar, and the sun with a yellow one. In Christianity, a boar is associated with anger, enmity and anger.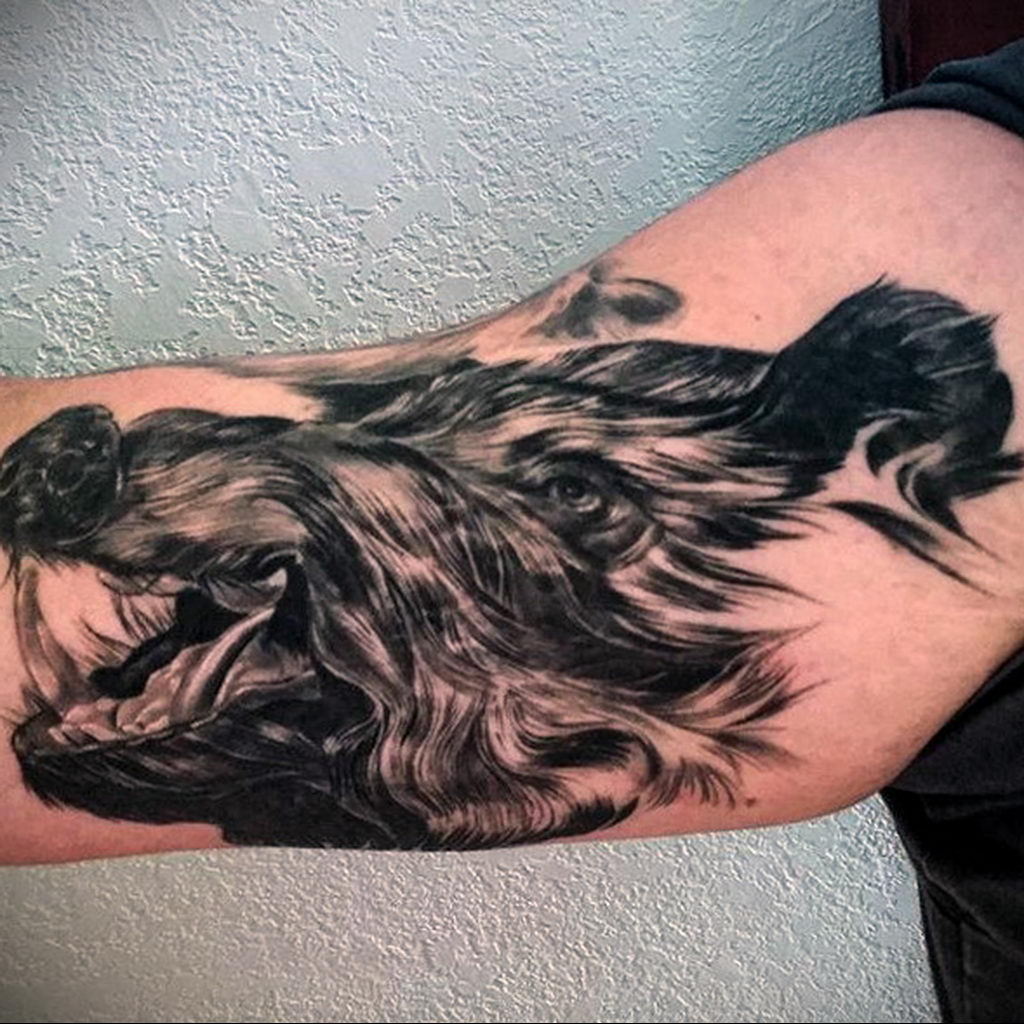 Therefore, the boar tattoo is for men exclusively because it gives courage and virility to its owner.
A boar tattoo on a man body means:
– heroism and strong will;
– courage;
– fearlessness and superiority over an enemy;
– patience and perseverance;
– lust and sexual stamina;
– demonic and ferocious nature.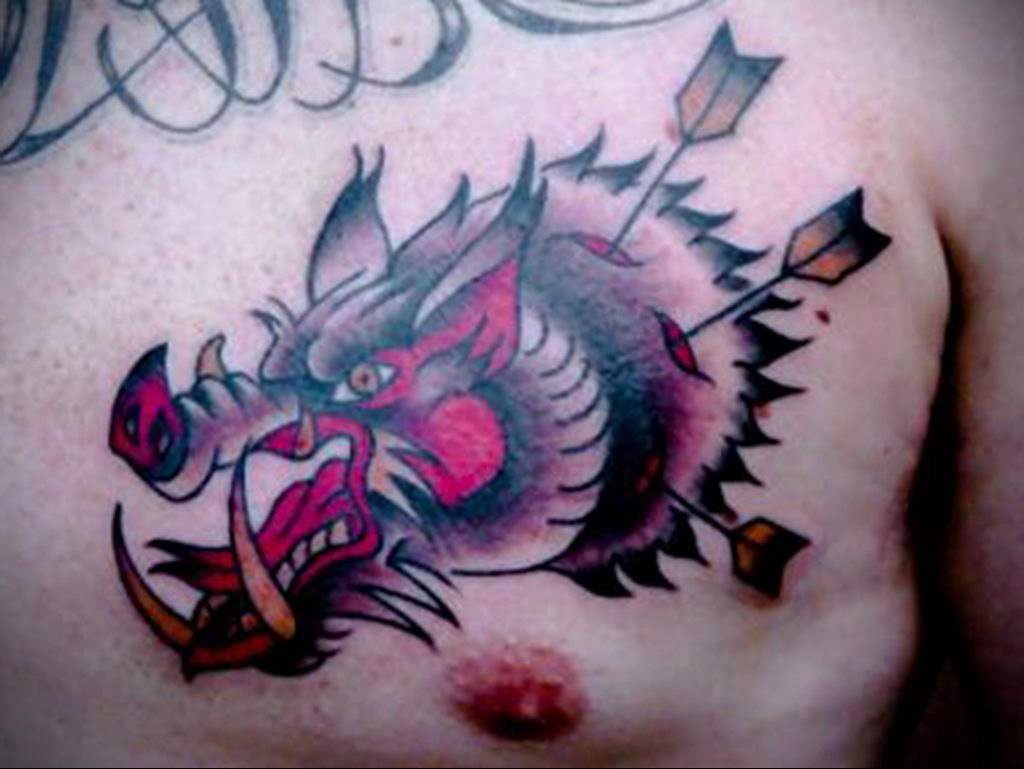 Such a tattoo has two completely opposite meanings.
Positive. A cute pink pig can win a woman's heart. Such a tattoo is suitable for cheerful and positive people who want to attract attention luring them with their pretty appearance and complaisant character. Tattoo with a pet also represents wealth and prosperity.
Negative. An angry ferocious beast with drops of blood means that its owner is a tough guy. The owner of this tattoo is an aggressive, courageous person and even cruel, if necessary. A wild boar tattoo is associated with the agility and ruthlessness that are inherent in this beast.
Photo examples of a tattoo with a boar from 02.01.2020 (174 photos):
(click to see more photos)
Boar tattoo as a sign of a valiant warrior
A boar tattoo is believed to be a symbol of unwaveringness, intransigence. Its owner always goes straight to his goal, he is brave, fearless and knows what he wants from life. Hunters tattoo it to show everyone their skills.
Among Americans, wild boar symbolizes male power, loyalty to the family and sexual stamina.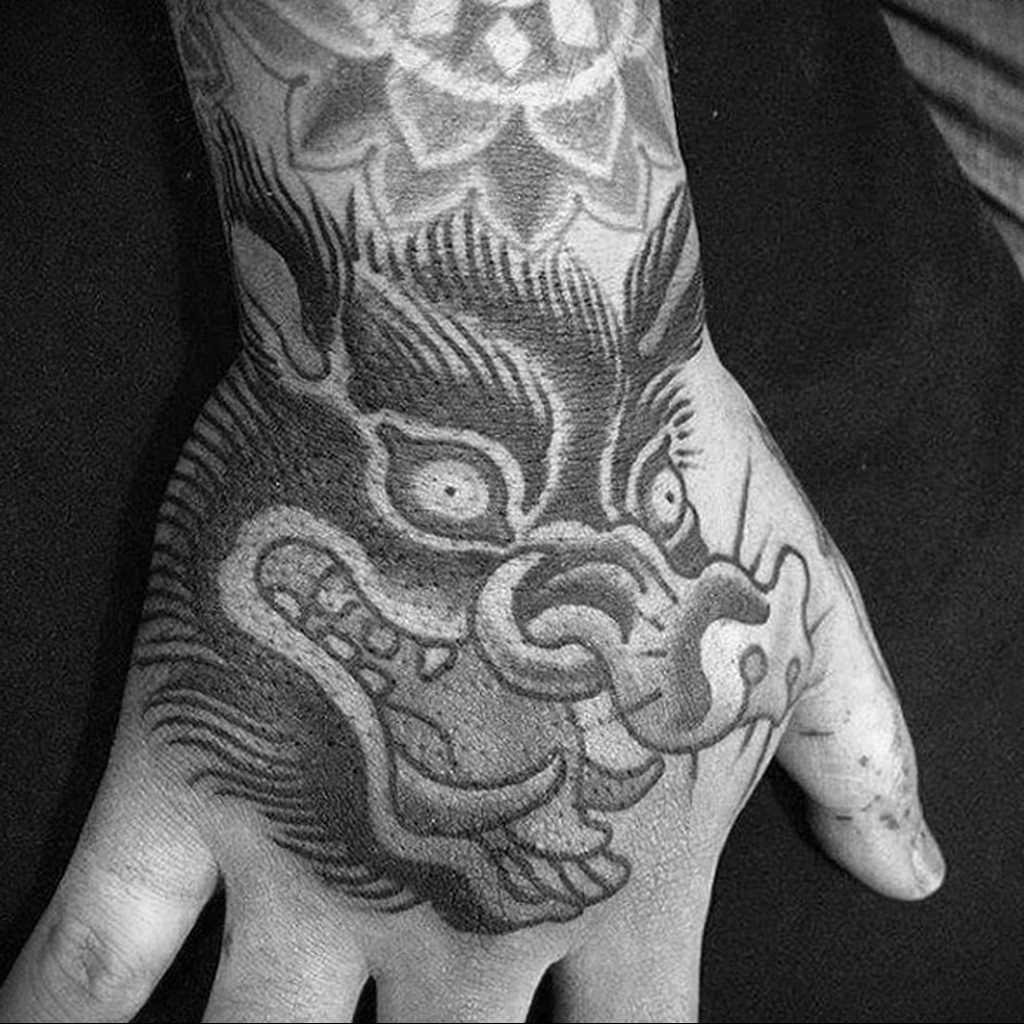 The meaning of tattoo in the criminal world
This image identifies:
– belonging to a particular caste;
– cruelty of the crime;
– term of imprisonment;
– attitude to government authorities.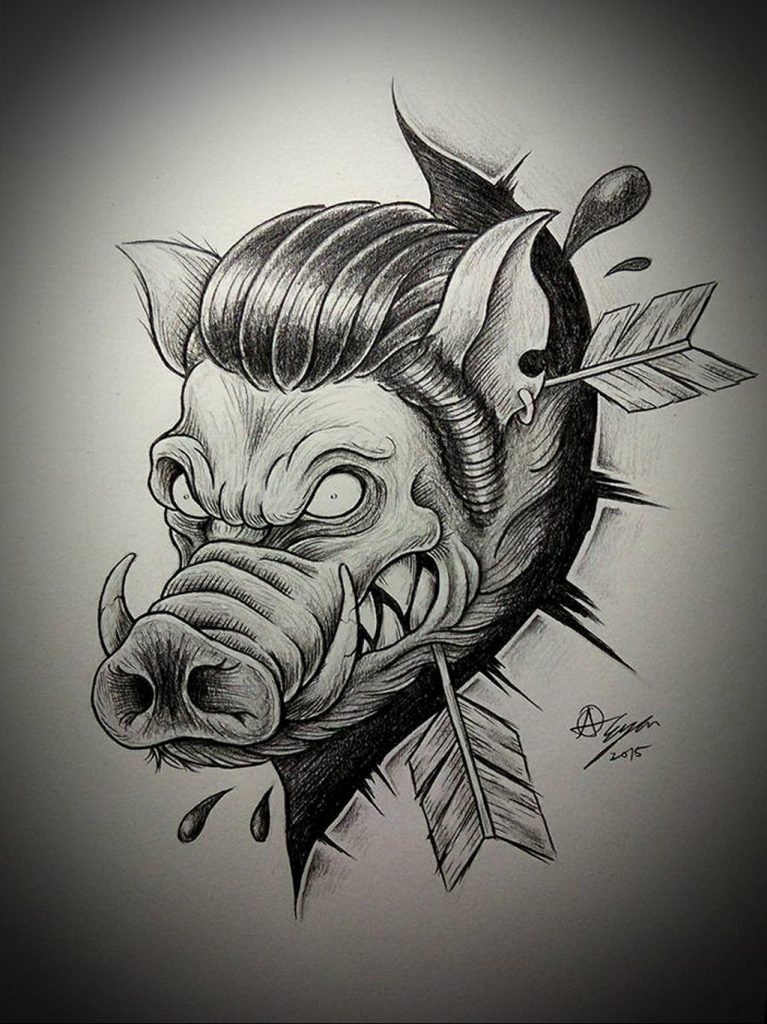 It is less common than domes or crosses, but still quite popular. In the USSR a boar was tattooed to speculators convicted under the article along with a portrait of Lenin, as a symbol of the duality of authorities.
Where to tattoo
It is better to tattoo a boar on the shoulder or forearm to fit the image completely.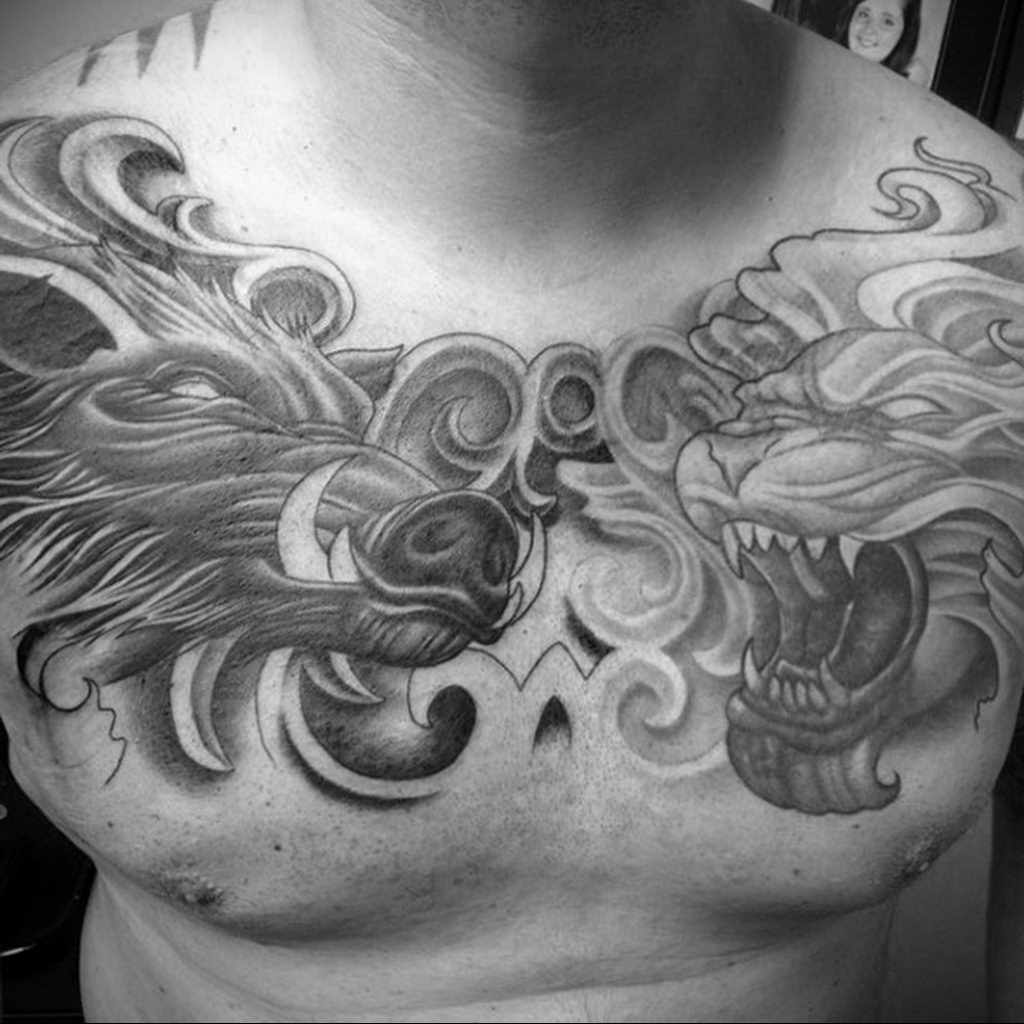 The meaning of boar tattoos for women
It is better for women not to choose such a tattoo, since in the prison world it means a vicious relationship between women, where the owner of the tattoo took on the role of a man in a relationship.
Watch the video:
The text of the article was prepared by: NATALI_ETER (Eterevskova Natalya Alekseevna)