This article will let you know all the most important things about the importance of crucian tattoo, introduce you to popular drawings in the art of modern tattooing, describe their interpretation, meaning and history. More examples you can find here:
Crucian tattoo pictures
Crucian tattoo designs
Some interesting facts about history, interpretation and meaning of the crucian tattoo
(If you do not want to read, you can listen to the audio version of the article)
Tattoos with images of crucian carp initially were popular in Japanese and Chinese cultures, so the symbol has several interpretations. The drawing is tattooed usually in the bright colors. The image is most often tattooed on the back or shoulder and less frequently on the calves and thighs.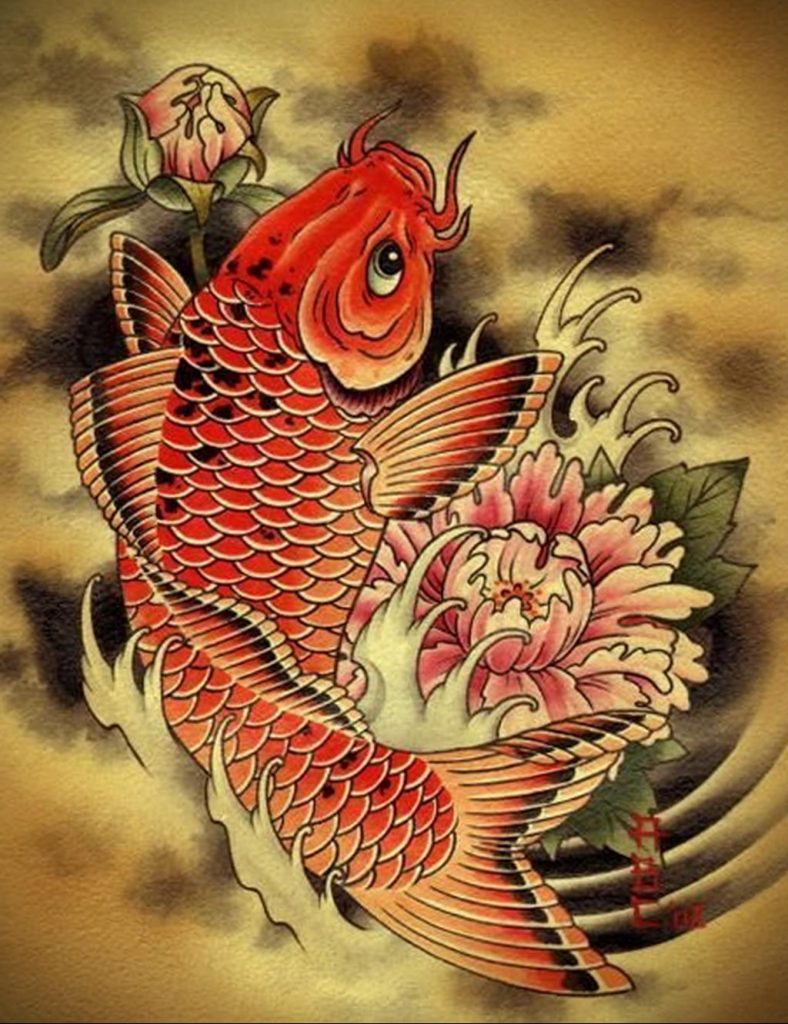 In Chinese culture, a crucian carp is called koi, it is the ruler of all existing fish in sea. That is why the image of this type of fish symbolizes total power and leadership.
There is a legend that says that if any crucian swims across the yellow river against its course, it will become a majestic and awesome dragon. That's why the Chinese name for a crucian carp is a dragon fish.
This legend turned crucian carp into a certain symbol, inspiring and motivating all people who have ambitious goals laid through thorny and long paths. It is believed that the owner of a crucian tattoo is kind of blessing himself, and the more space of the body it covers, the more luck and success he will have in life.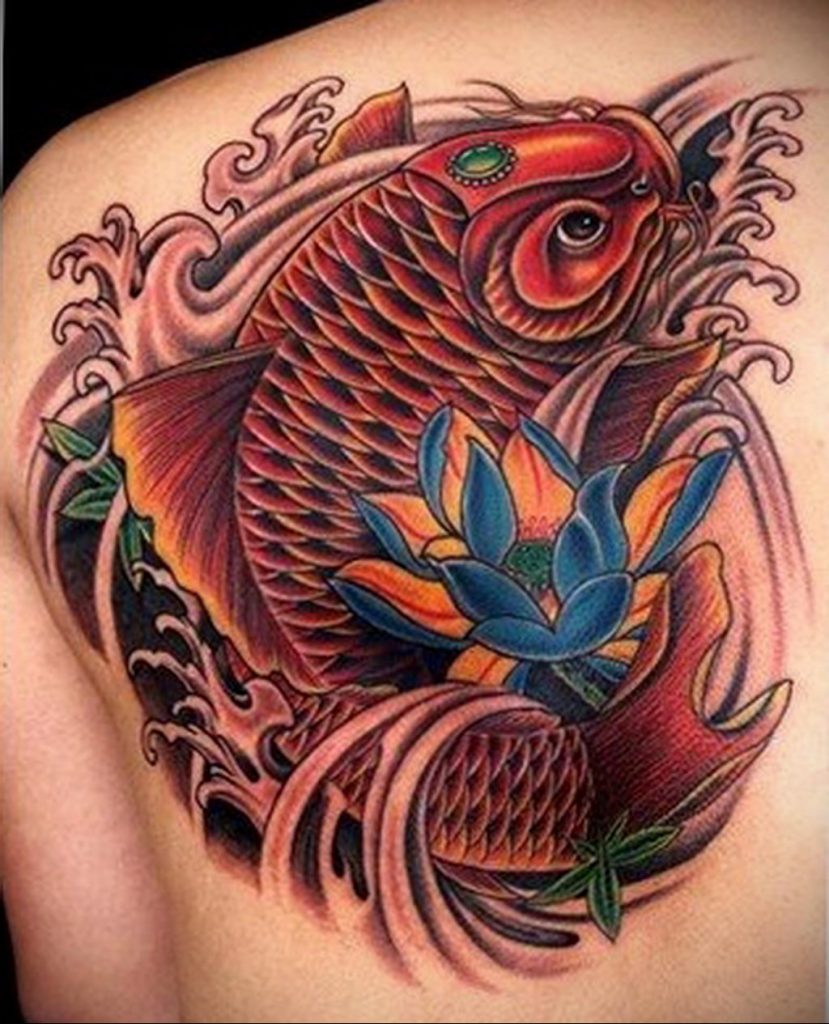 Crucian life is associated with a constant struggle both with the course of the water stream, and fight for a place for breeding. Therefore, in today's world, a crucian tattoo is often understood as a symbol of a great vitality and will to live. It gives hope for the best and protects in any difficult situations.
Photo examples of a tattoo with a crucian carp (288 photos):
(click to see more photos)
Crucian tattoo in Eastern culture
Eastern people consider crucian carp to be a long-liver, and therefore attribute to fish such qualities as courage of spirit and independent existence.
The crucian carp was a symbol of the masculinity among the Japanese. There was a certain ritual according to which a family with a newborn boy hung out bedspreads with a picture of a fish for all to see. Now a crucian carp means family well-being and prosperity.
As a tattoo, a crucian is usually depicted with water, a cherry, a lotus, a dragon or other crucian carp. Often there is a hybrid of crucian and dragon.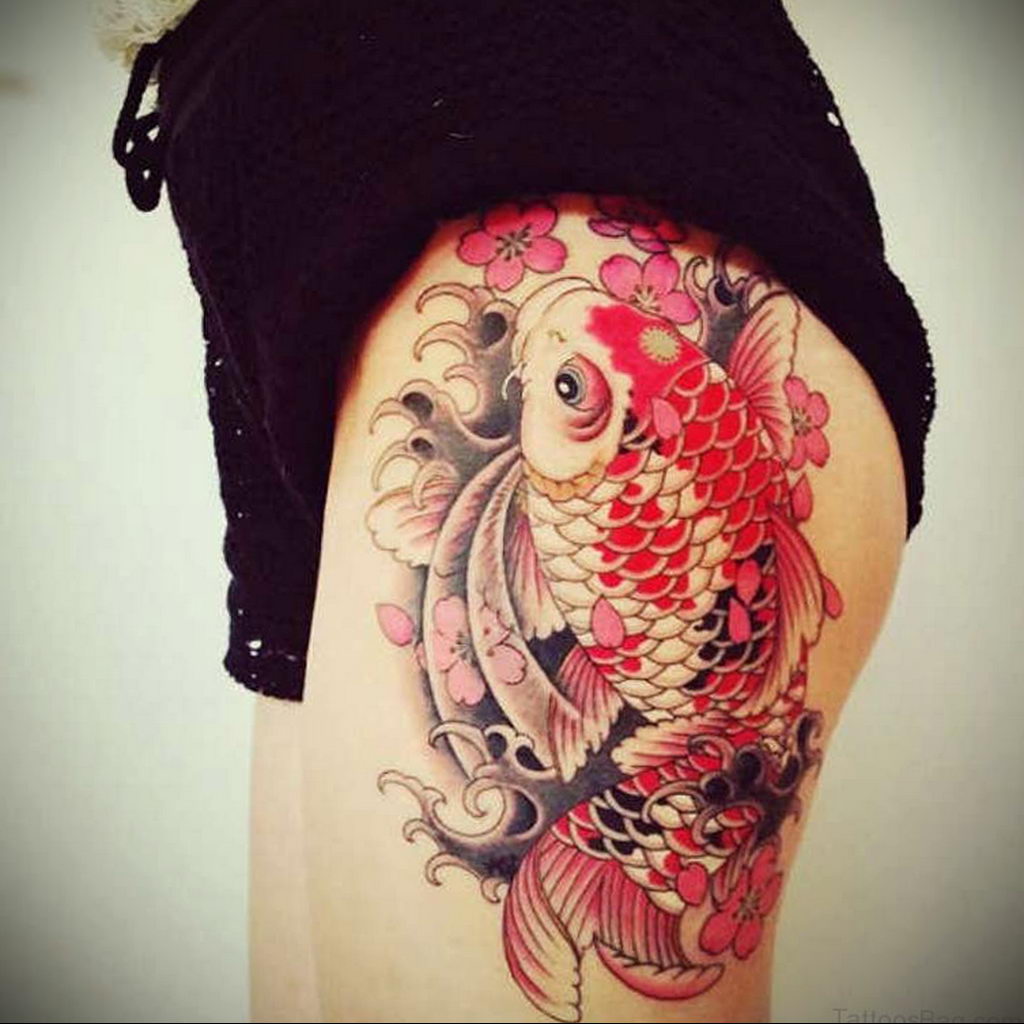 Modern society associates a tattoo with the image of crucian carp with the wisdom of life, rich experience, strength of character, love of life, energy, happiness, peace of mind.
If a depicted fish resists or fights with the flow, then the owner of the tattoo is on the way before making a large and difficult decision. Fish is a symbol of all solved problems.
The image of two crucians represents complete harmony in personal life and prophesies a happy marriage.
A tattoo with a picture of a crucian is great for people who know the purpose of their life, who are independent and decisive in their actions.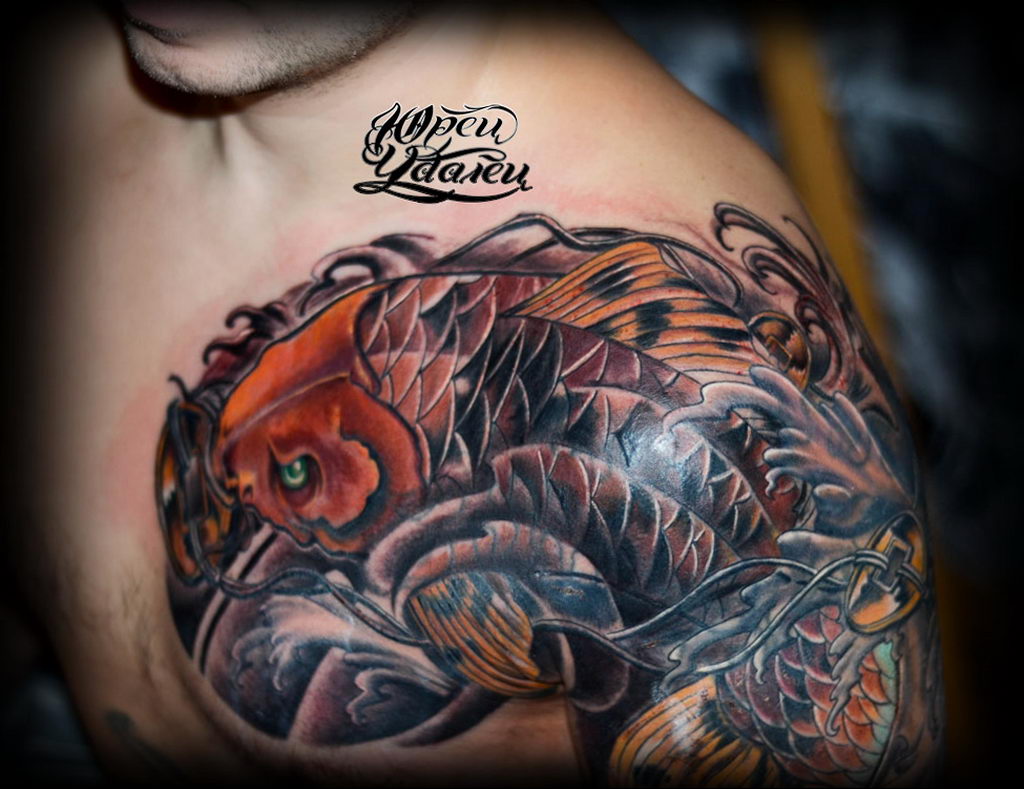 An ideal place for a crucian tattoo is chest, back, forearm, shoulder, side or hip. The tattoo is depicted most often in the color version. It has no gender distinction; it suits both men and women.
Watch the video:
 The text of the article was prepared by: NATALI_ETER (Eterevskova Natalya Alekseevna)