Here you can find all important information you need about the meaning of a beads tattoo, kinds and peculiarities of tattoo images demanded, their history, sense and interpretation. More examples are to be found here:
The Pictures of the Tattoos of Beads
The Sketches of the Tattoos of Beads
All about the variants of images and the meaning of a beads tattoo
(If you do not want to read – you can listen to the audio version of the article)
The sacred sense of an image has an increasingly smaller role to play in the modern culture of body drawing. A client often wants to get a tattoo for it to be just ornamental or because it is in fashion. By now a tattoo has for a long time been perceived as an opportunity of strengthen one's body identity and beauty. That is why many representatives of gentle sex are apt to get a tattoo of a bracelet on wrist, a chaplet or a chain on ankle.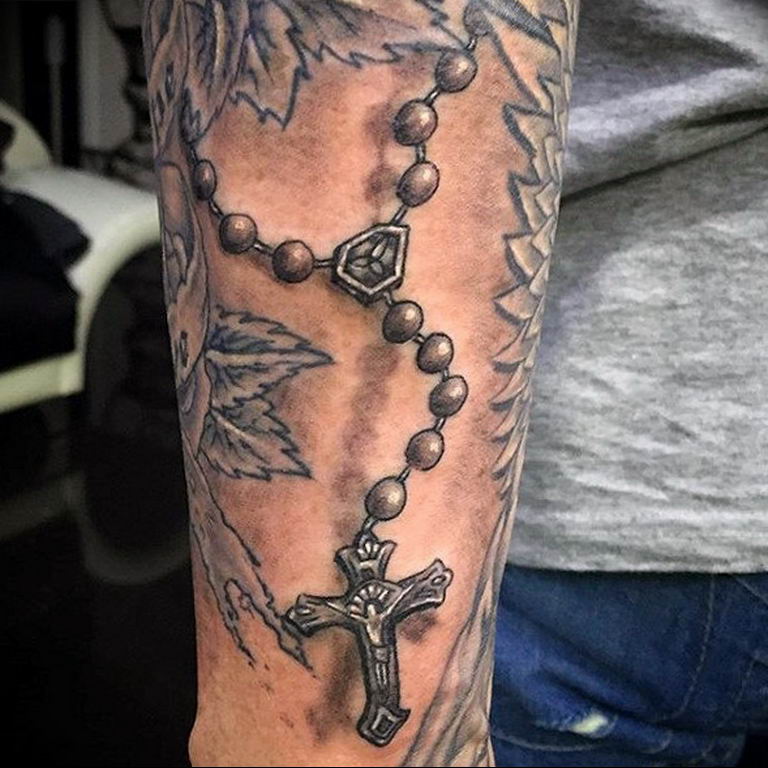 The sense of a beads tattoo
The tattoo of beads is primarily an ornament and then a conceptual structure (if it is not a rosary). A professionally drawn image with details and shadowing is often hard to tell from real costume jewelry. The body tattoo with the elements of beads is a deco aimed at emphasizing its owner's taste and beauty. The beads can be a separate image or got alongside with crystals, feathers, bows, flowers and other elements.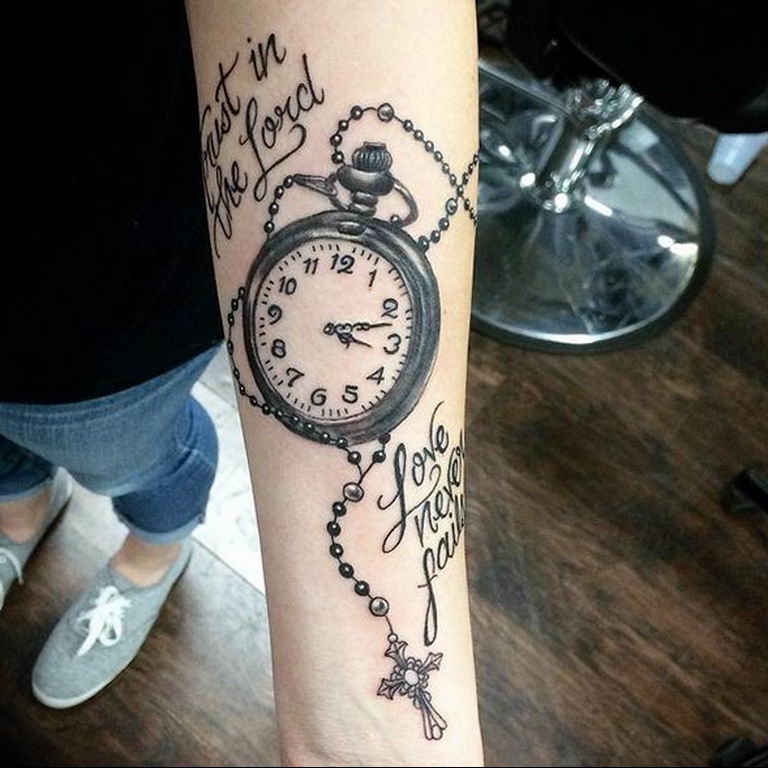 The motives of a beads tattoo sketch
If a client wants so, an artist will draw a big-sized pendant with an intertwining of complex details, highlighting each bead and crystal with shadows and glares, which is to emphasize its owner's eccentricity and bold; or will make it a thin, hardly visible thread with a couple of interwoven beads on wrist, emphasizing natural refinement.
Photo examples of tattoo designs with beads (231 photos):
(click to see more photos)
Body parts where images of beads are often to be drawn on
As this kind of a tattoo is certainly an accessory, it is often put on the parts, where jewelry is normally worn:
A neck – the most popular body part where the images of chaplet or chains are often put;
A hip – quite an intimate part, where mostly girls are apt to get the images in a style of a garter with bows and pearl beads. Such a tattoo is often viewed as a claim of an owner's loud sexuality.
A wrist or an ankle, where an image of a bracelet is put. Such an ornament can be massive or hardly visible, depending on a clients wish.
A back at a belly, where beads can be put as a part of a complex ornament.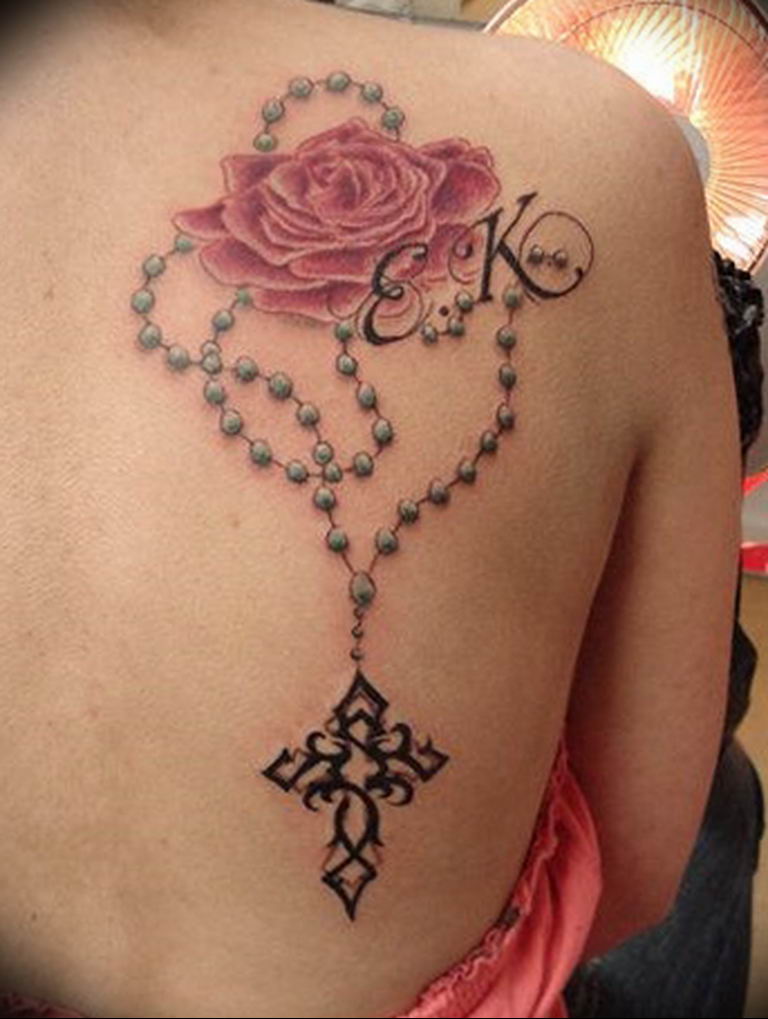 Wherever the tattoo of beads is put, it often speaks for its owner's feminine and sexuality.
The difference between a basic beads tattoo and an image of a rosary
However, the tattoo of beads as an ornament should not be confused with the one of a rosary, because such an image is full with a deep meaning. It speaks for its owner's great spirituality, love for God, wisdom, circle of life and rebirth.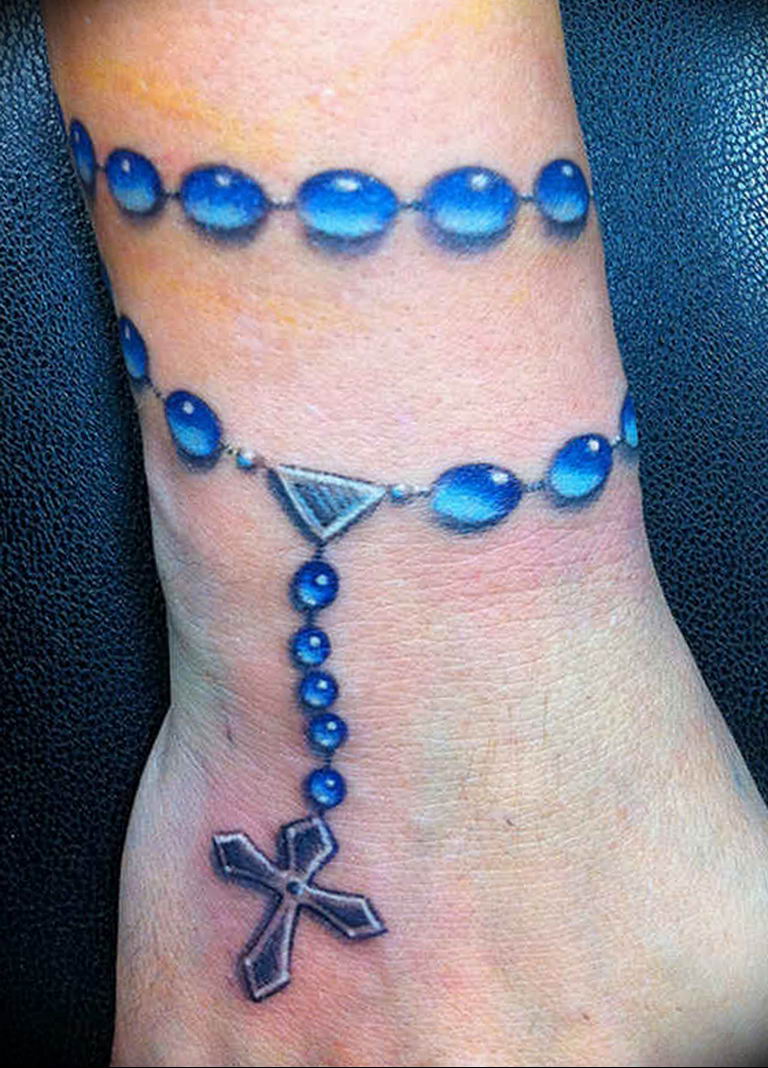 A rosary is an ancient attribute for prayer, helping to get away from the fuss and immerse in the spiritual process of communication with God. That is why one should think over the meaning of some image before getting it on the body.
Watch the video:
The text of the article prepared by: elenashatalina (Elena)